I and my young brother went to Hiruzen Kogen, north of Okayama area to see our relatives. We got on a Nozomi super express bullet train from Shin-Yokohama bound for West Japan at 08:10 in the morning. We hit Okayama at 11:10. At the station, we were supposed to rend a car. I thought we could rent a car without reservation, which turned out completely wrong. We contacted all of car rental companies around the station. Unfortunately, no of them has vehicles available for the day.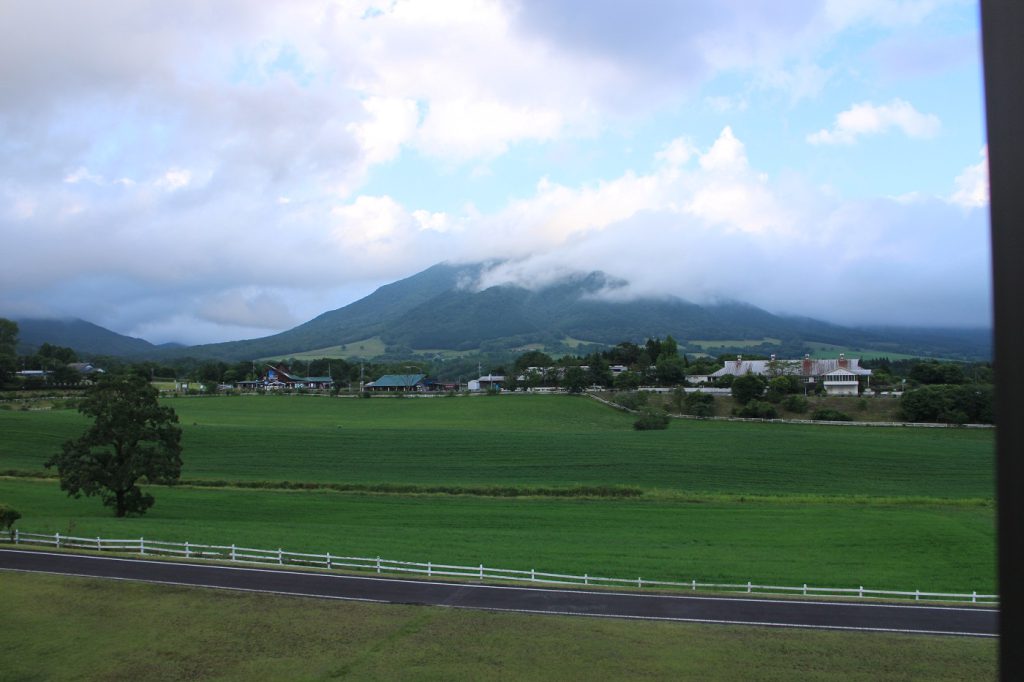 We decided to take either train or bus to the town. But we had no idea how to get there. So we visited the tourist information in the station building. They were not able to provide information how to get there although Hiruzen Kogen is a popular tourist destination in the prefecture. Instead, they just suggested we should go to the bus operators' ticket offices at the bus terminal in front of the station. The staff at the Chutetsu Hokubu bus office explained to me how to get there with smile and politely . According to them, we should take a bus to JR Chugoku Katsuyama station and transfer to a Maniwa city's community bus . They told us the bus to Katsuyama is coming at 11:56, in just a few minutes. Now that we know we can move forward, we felt relieved. When the bus came, they f told us it is the bus we should ride. They were really godsends to us.
The bus took an expressway, stopped for short break at a rest area and hit JR Chugoku Katsuyama station at 13:45. We had to wait for another bus for about an hour. We found a restaurant inside the station building and had lunch there. It is a Japanese style restaurant serving noodle dishes and rice bowl dishes. My brother chose a set of Udon noodle and Tempura. I chose a set of Udon noodle and Teriyaki chicken on rice. They were delicious hearty meal. It is a pop and mom restaurant. They were very friendly. We had a good time.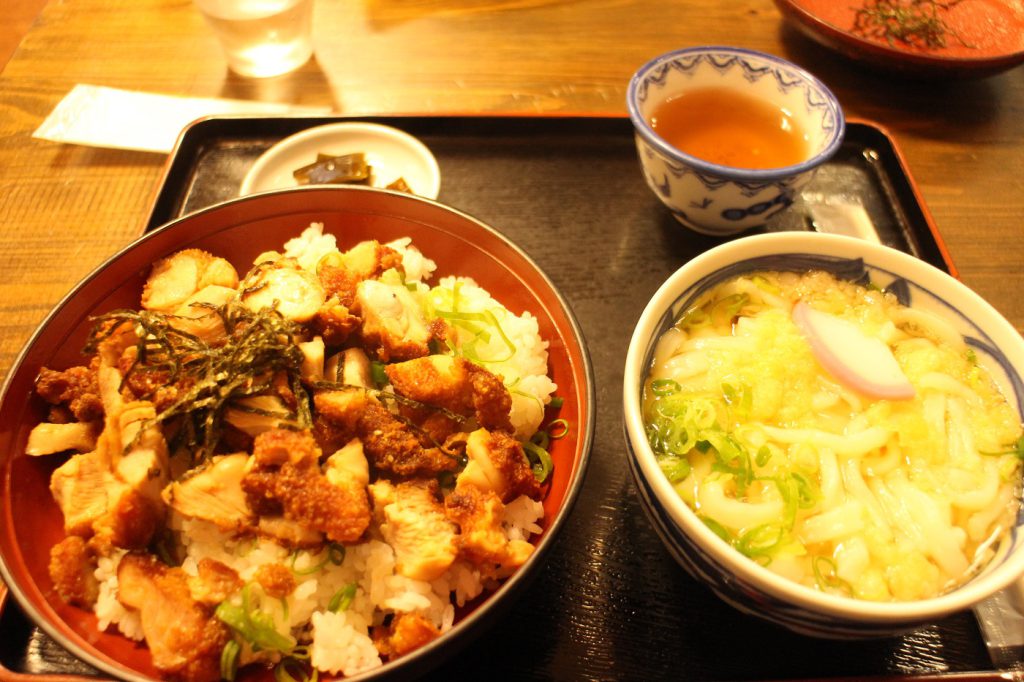 At the waiting room of the bus office, we met a young guy from South Asia. He spoke Japanese fluently. He mentioned he is on the way to Onsen, hot spring on business. I wondered what it means "business" in this mountainous area. But we would figure out what it means later.
The community bus to Hiruzen Kogen came at 14:35. The bus is a mini bus for max 20 persons. There were only five passengers including us. We were going for an hour long on the winding mountain road. The bus connects between the station on the town's center and Hiruzen Kogen, a resort area in the mountain area 4 times a day. It is the only public transit in the town.
After an hour ride, we got off at Tochinoki bus stop, where our ante was waiting. After we completed the errand, we headed for Hiruzen Kyukamura Hotel by our cousin's car. The view of a mountain with crowds came into my eyes during the ride. Hiruzen is the name of the mountain with an elevation of 1,202 meters which straddles between Okayama and Tottori prefectures. It is a part of Daisen-Oki National Park. The hotel is located in front of grassland and the mountain. In summer, holiday makers come to take refuse from city's summer heat. In winter, people come to ski.
The dinner was served at the dining room with the view of the mountain. It is a buffet style dinner. There are variety of food, Western, Chinese and Japanese. Staff members are Nepalis and Thai. Everyone speaks perfect Japanese with gentle smile and manner. They would answer questions precisely and friendly when asked about the food. Every word they speak reflects their warm heart. They are not overdone by Japanese colleagues. I realized the spirits of hospitality is not only Japanese specialty. I think we should think towards living with foreign people more positively. I thought the guy we met at the station must be working at a hotel.
Next morning, we had breakfast at the dining room at 07:00. Like the dinner last night, it is a buffet style. You can eat what you want. Fresh milk and yogult, the town's speciality, are of rich taste and very delicious. We had to pack our luggage quickly and got on the community bus at 08:40 from the hotel for Okayama. It was really crush trip. No chance to see around this time. I wish I could stay longer and see the place more.
Y